The main goal of this conference is to promote research on all aspects of network security, as well as to build a bridge between research on cryptography and on network security. We therefore welcome scientific and academic papers with this focus. Previous CANS have been held in Taipei (2001), San Francisco (2002), Miami (2003), Xiamen (2005), Suzhou (2006), Singapore (2007), and Hong Kong (2008).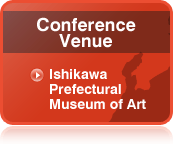 | | |
| --- | --- |
| Submission Deadline | 17 June 2009 12:00:00 JST (UTC+9hr) (closed) |
| Acceptance Notification | 14 August 2009 |
| Camera-ready Copy Due | 4 September 2009 |
| Conference | 12 - 14 December 2009 |

The 8th International Conference on CRYPTOLOGY AND NETWORK SECURITY, CANS 2009, was held at Ishikawa Prefectural Museum of Art, Kanazawa, Japan, in December 12-14, 2009. The proceedings is published as an LNCS volume entitled "CRYPTOLOGY AND NETWORK SECURITY" from Springer (Online).

National Institute of Advanced Industrial Science and Technology (AIST), Japan
Japan Advanced Institute of Science and Technology (JAIST), Japan

Special Interest Group on Computer Security (CSEC), IPSJ, Japan
Technical Group on Information Security (ISEC), IEICE, Japan
Technical Committee on Information and Communication System Security(ICSS), IEICE, Japan
Society of Information Theory and its Applications (SITA), Japan

National Institute of Information and Communications Technology (NICT), Japan
Institute of Regional Information Systems (IRIS), Japan
ComWorth Co., LTD, Japan
Hitachi, Ltd.
Hokuriku Telecommunication Network Co.,Inc., Japan
Internet Initiative Japan Inc.